William G. Severino
Architect, LLC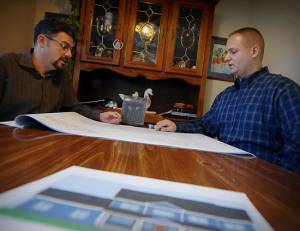 N.J.'s First True 'Passive House' Will Have No Need For A Furnace
Teaneck resident Ray Evangelista is building a 4,400-square-foot, two-story colonial that's got everything a homeowner could want — except a furnace.
---
---
The house has been designed so that there will be no need to heat the home in winter or cool it in summer. Energy costs will be as little as 10 percent of a traditional home, said Evangelista, who owns a company that provides energy audits to homeowners.
It will be the first home ever built in New Jersey to be certified a true "passive house," and only the 17th in the nation to earn that designation.

"We're at the onset of what could be a revolution in house design," said William Severino, the Little Ferry architect whom Evangelista hired for the project.

The home will have 14-inch-thick walls instead of the standard 5 inches, thicker-than-normal windows, and joints that will be fitted, taped and sealed with far greater precision that a typical house. The house is designed to be airtight, and the wider walls provide room for extra cellulose insulation.

All those relatively minor differences will work together to create the biggest difference of all — no need for heating or cooling.

It will cost about 7 to 15 percent more to build than a traditional house. The extra costs of wider walls and more precise craftsmanship to prevent air leakage will be partially offset by the savings generated by the lack of a furnace and heating system. Storm windows are also unnecessary on such a home.

A small heat pump will help warm or cool air as needed, and a ventilation system will bring fresh air into the home and circulate it. The ventilation system will also extract the interior temperature from the outgoing air and transfer it to the incoming fresh air.

The special features will keep the temperature so well-balanced that lighting a few tea candles or turning on a hair dryer could be enough to raise the temperature a few degrees if necessary, Evangelista said.

The home will use 90 percent less cooling or heating energy than a traditional home, said Evangelista, who runs his own company, 411 Energy Services LLC, which provides energy audits and oversees insulation retrofits on existing homes.

With a small solar panel array on its roof, the home will actually be a "net zero" home — one that requires no energy from the electric grid. Given that energy costs are predicted to rise over time, the energy savings generated by such a home will also increase, Severino said.

Even though the home will be airtight, the windows will open to let fresh air in whenever Evangelista's family wants.

Evangelista, who will break ground on his new home in Egg Harbor Township in the next few weeks, has also been talking with a prospective client to build a similar home in North Jersey.

When Evangelista, a Teaneck resident, approached a traditional home builder and presented him with plans for the new house, the builder balked. Evangelista then interviewed a dozen different architects before he found Severino.

The home just received its pre-certification as a true "passive house" from the Passive House Institute in Urbana, Ill., a few weeks ago.

Older homes can be retrofitted to become more energy efficient, but it's hard to achieve the extreme level of efficiency that a newly designed passive house would. The best time to make the changes is when an existing home needs a new roof or new siding.

Evangelista originally worked in IT, but started an energy audit business on the side to raise extra money. Soon he left IT completely and ventured full time into the energy audit field. He said 20 percent of his energy audit clients are owners of new homes, who can't understand why their monthly energy bills run anywhere from $500 to $1,000.

"Building to current code does not mean building energy efficiency," Evangelista said.

When he decided to build his own home, he went to a traditional builder asking if he could get the home constructed to reflect his advanced knowledge of insulation and energy-efficient houses. The builder wouldn't go for it, he said.

That launched Evangelista on nine months of research to learn more about the concepts of true passive homes. The passive home concept first emerged in the 1970s in the United States, but the ideas were quickly abandoned after the oil crisis subsided in the 1980s, Severino said. The ideas and technology were kept alive and perfected in Europe, especially in Germany.

The first certified passive home in the United States was completed in 2002.

The United States has few certified "passive homes" because few architects and builders are trained in the techniques and because profit margin is so ingrained as a driving force, Evangelista said. He figures his home will take a month or so longer to complete than a traditional one, a turnoff for builders who want to finish homes as quickly as possible to maximize their profits.

"This kind of house doesn't necessarily take special training," Severino said, "but the onus is on every tradesman to do their best."

He predicts that more builders will be open to such projects once more customers are aware of passive homes as a viable option.

"As more people understand the concept of what a passive house can do for them, the more contractors will look to provide the service," Severino said.


William G. Severino
Architect, LLC