William G. Severino
Architect, LLC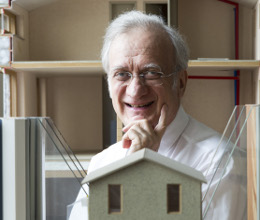 Passive House Pioneer
You can learn more about passive houses below including what makes a house Passive, and what advantages they offer.

Dr Wolfgang Feist was a German Passive House pioneer from over 25 years ago. You can read a Passive House Institute interview with Dr Feist by clicking the button.

WHAT IS PASSIVE HOUSE
Passive House is an international building standard developed in the 1990s by the Passive House Institute of Darmstadt Germany. Building to the Passive House standard reduces our buildings' operational energy demand to an optimized extent through passive measures and components such as insulation, airtightness, heat recovery, solar heat gains, solar shading and incidental internal heat gains.
WHY PASSIVE HOUSE?
Passive House reliably delivers up to approximately a 90% reduction in heating and cooling demand and up to a 75% reduction in overall primary energy demand when compared to our existing building stock – meant to aggressively meet the climate crisis carbon reduction imperative while making a more comfortable, healthy and affordable built environment.
IMAGINE PASSIVE HOUSE?
A Passive House can be a school, an apartment building, a factory, an office, any building type. It can be modern, historical, vernacular, high or low – any design style. The only limit to what Passive House can be is what you can imagine.
PASSIVE HOUSE EXPLAINED IN 90 SECONDS?
ADDITIONAL RESOURCES
Or Call Bill Severino at 201-615-7001 to inquire about your project.